Bounce House Rentals in Fort Myers FL
Bounce House Rentals & Water Slide Rentals in Fort Myers, Lehigh Acres & Cape Coral, Florida
Hello and Welcome to ABC's Bounce Houses LLC! We are a Family Owned small bounce house & party rental business located in Fort Myers FL. We service Fort Myers and the surrounding cities such as Lehigh Acres, Cape Coral, Alva, North Fort Myers, Estero, Bonita Springs, Labelle, Immokalee, Babcock Ranch and certain zip codes of Naples, Florida. We have a variety of bounce houses, water slides and party decorations to choose from for your next corporate event, birthday party or special occasion. Some things we offer for rental at ABC's are different types of party Inflatables such as bounce houses, bounce house slide combos, water slides, dry slides, obstacle course, tables, chairs, party decorations, concession machines and much more! We are Licensed, Insured, Reliable, Friendly, Trustworthy and Honest. We strive to be affordable for all types of budgets while providing quality service and products. Safety has always been a priority as well when it comes to proper set ups, take downs and cleaning procedures. All party inflatables are cleaned and sanitized with CDC recommended cleaning products to help combat the Covid19 pandemic. Rest assured inflatables are cleaned, delivered and installed by professionals. We deliver, set up and do take down of all inflatables to ensure a stress-free process for you. Check out some of our EXCLUSIVE designs such as the Unicorn, Mermaid, Tractor, Jellyfish Swish and many more options! These Unique designs will leave your guests feeling inspired! And don't forget to order a matching themed party fringe decoration or party decoration kit to give your event that over the top look and feel! Let us help your party to be a MAGICAL one!
!

!

T

H

A

N

K

S

G

I

V

I

N

G

S

P

E

C

I

A

L

!

!
Delivery on Wednesday, Pick up on Friday for a ONE DAY PRICE!! Call, Email or Text to receive this promotion.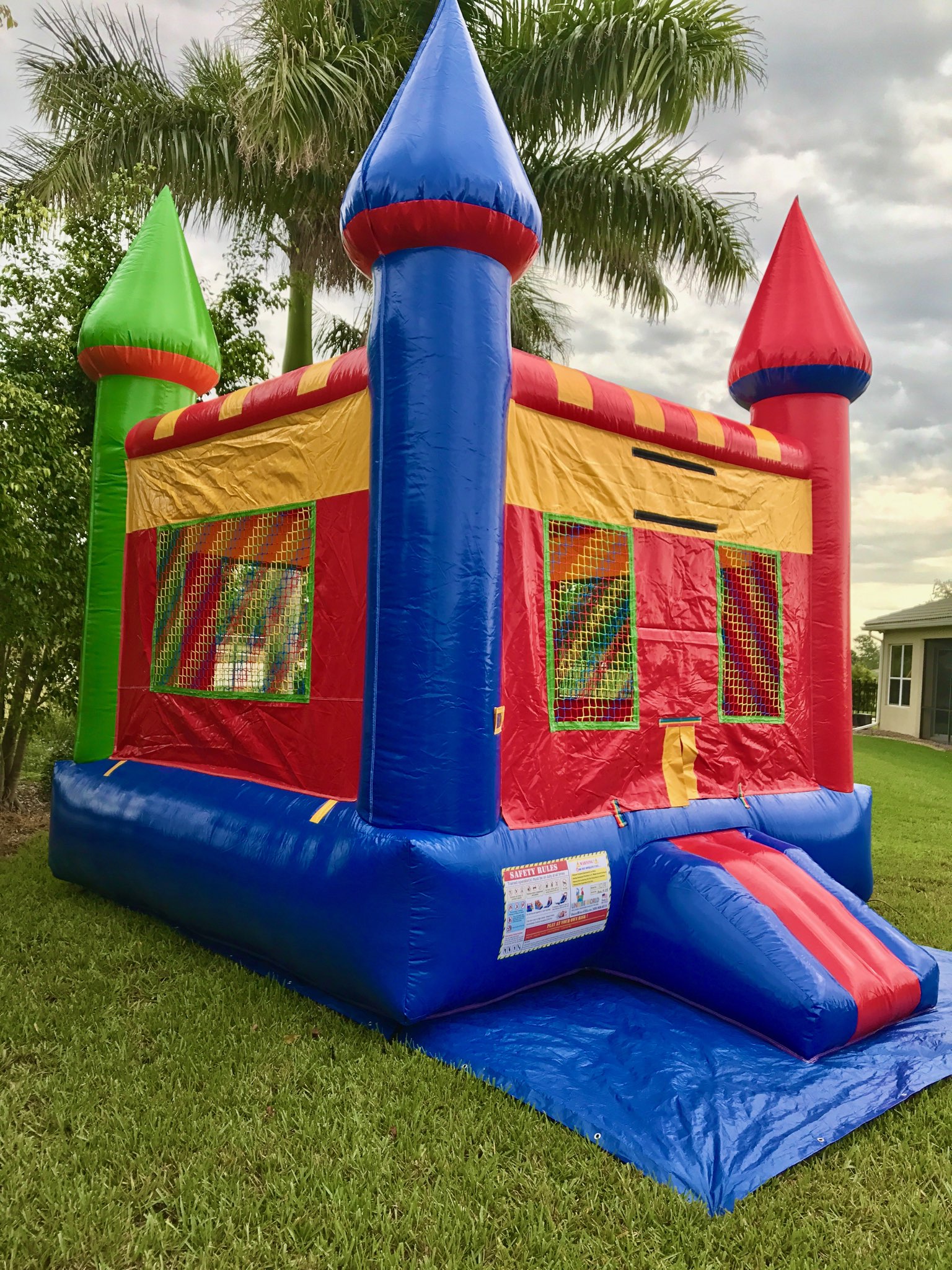 BOUNCE HOUSE RENTALS
Keep the kids entertained with one of our Inflatable Bounce House Party Rentals! We have Modular bounce houses, Multicolored Castles and Pink/Purple Castle bounce houses to choose from. Any of these would be the perfect addition to any child's birthday party, corporate picnic, fundraiser or Holiday gathering. Click below to see the available options.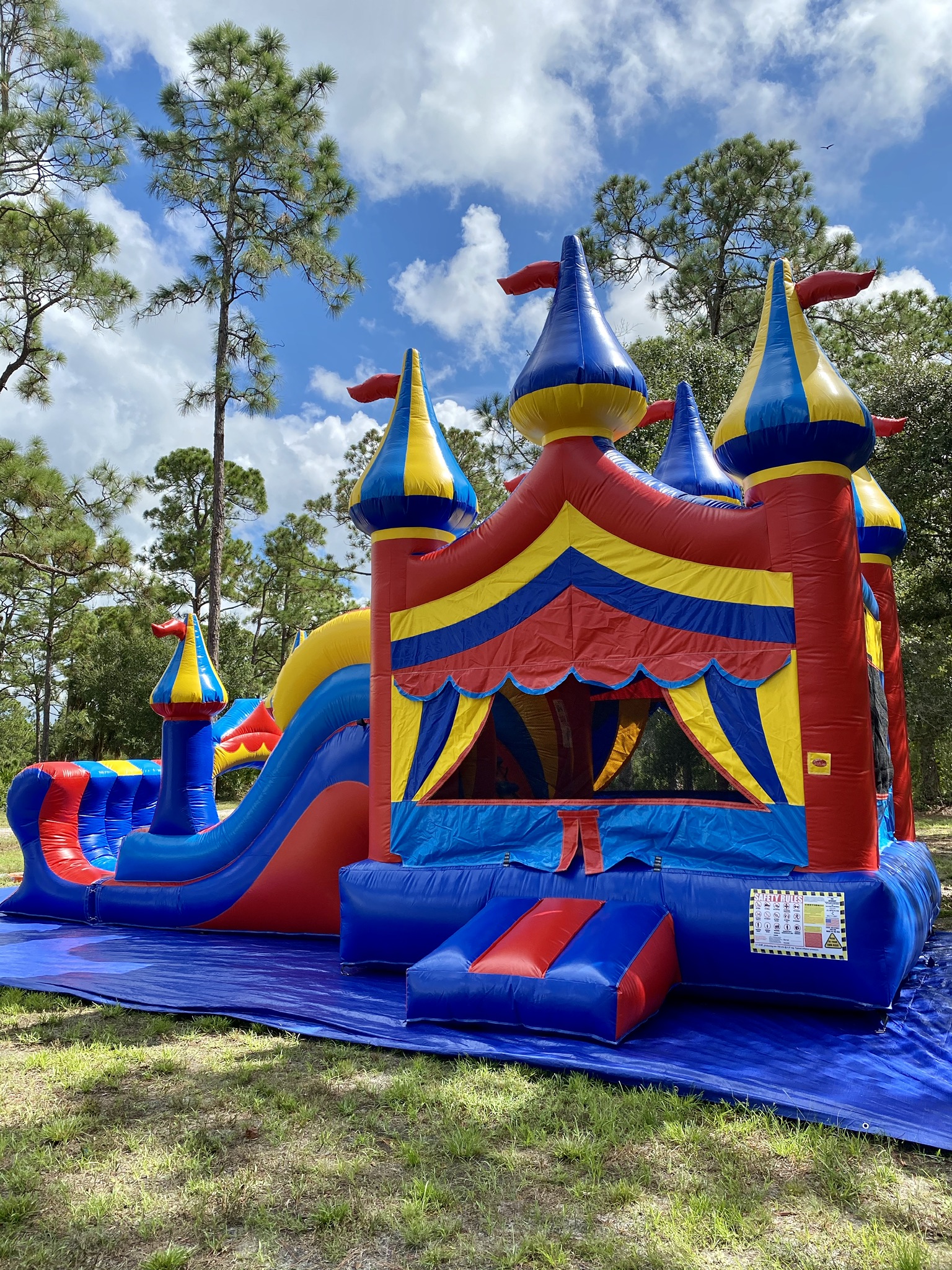 BOUNCE HOUSE & SLIDE RENTALS
Bring on the FUN with one of our Bounce House Combo Party Rentals! Offering very Unique designs such as the Unicorn, Mermaid, Tractor or Big Top inflatables. The Dual Lane Combos have two slides providing double the fun! Combo inflatables are bounce houses with wet or dry slides, basketball hoop, pool or landing pad. Wow your party guests with one of our Unique designs for your next corporate event, family reunion or birthday party! Click below to view available options.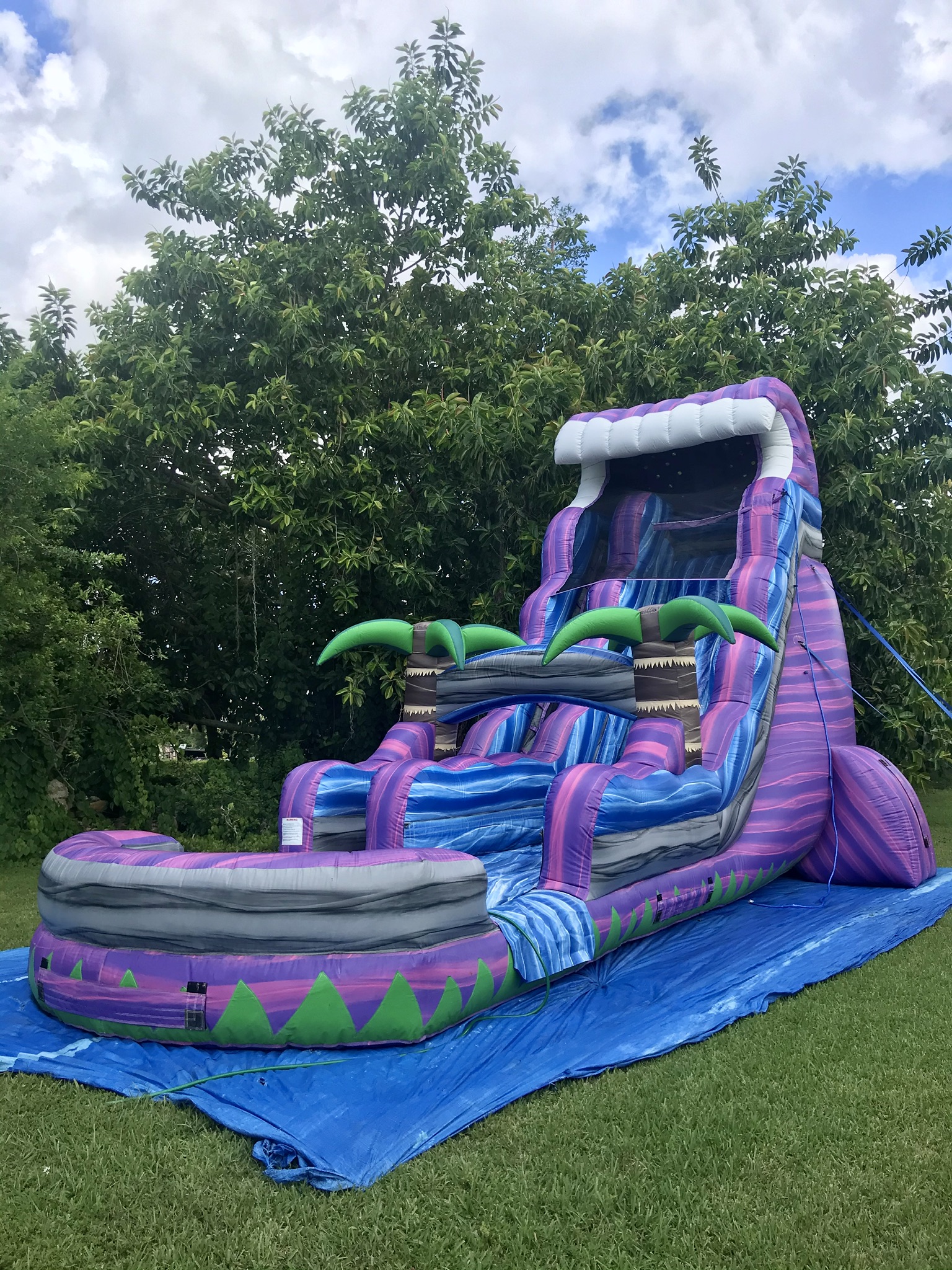 WATER SLIDE RENTALS
Exciting, Thrilling and Unique Water slide party inflatable rentals! Take your party or event to the next level with the gorgeous Purple Crush Tsunami or the shocking Flash Mountain water slide! T Rex is a great option for all the Dinosaur lovers out there. Multiple Dual Lanes to choose from for all the competitive party goers. Click below to take a look at our awesome options!
Water Slide Rentals in SWFL
Popular Water Slide Selection
Order-by-Date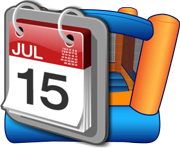 Bounce Houses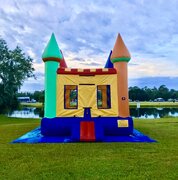 Dry Combos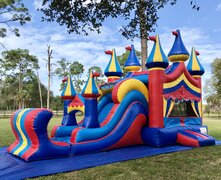 Water Combos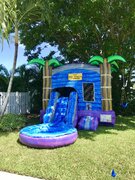 Water Slides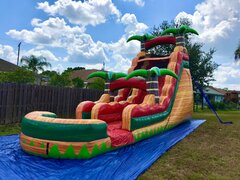 Dry Slides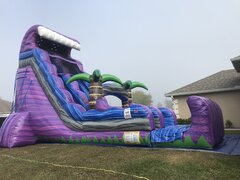 Tables & Chairs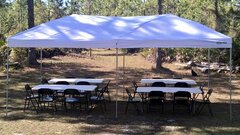 Concessions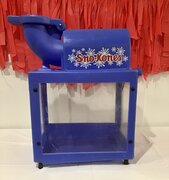 Decorations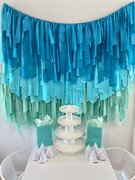 Cake Tables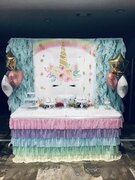 Bounce House Rentals in Fort Myers FL
Combos! Lets talk about what a "Combo" is exactly. A Combo party inflatable is a bounce house with slide, landing pad or pool plus a basketball hoop inside the bounce house. Choose between a dry slide with the landing pad for the cooler months or the water slide and pool feature for the hot summer months. Most children 13 years and younger prefer a bounce house slide combo for their birthday party because lets be honest, its the best of both worlds! A bouncy castle and a water slide all in one! We have several different themes to choose from including over-the-top bougie designs like the Unicorn, Mermaid, Tractor or the Big Top inflatable. The Modular Dual Lane, Arctic Blast, Princess Palace and Mermaid are all dual lane combos providing double the fun as the children race each other down the slide! If you want the tallest slide option when it comes to the bounce house slide combo then the Titanium Combo would be your best bet! There are several other options to choose from so be sure to check them all out!

BUT HEY! The Excitement doesn't have to stop there! For the braver children and older teens we have something for you too! Want to be the coolest house on the block? Check out the T-REX water slide and keep the neighborhood kids talking about its GIANT CLAWS! Or stand out with Flash Mountain and its huge lightning strikes with clouds! Considering we live in Florida the theme is quite fitting (hehe). We take great pride in being able to offer the newest and most unique designs for our clients. Check in frequently to see if we have added any new inventory! And stay tuned for our new Dinosaur bounce house slide combo expected to arrive during the Fall!

We also offer 'Add On' products such as Sno Kone and Cotton Candy concession machines. Make it a package deal and add tables, chairs and canopy party tents to your bounce house reservation. Generators are also offered for the guests who are having corporate events, family reunion picnics or birthday parties at local Community Parks. And lastly, once you have decided on a party inflatable, check out our party decorations to match your theme. If you don't see your party theme just reach out and we will do our best to bring your vision to life and create something spectacular!
ABC's Bounce Houses LLC delivers to the following cities:
At ABC's Bounce Houses LLC, we provide bounce house rentals to all of Lee County, Florida. That includes Fort Myers, Alva, North Fort Myers, Lehigh Acres, Cape Coral, Estero and Bonita Springs. We also service Babcock Ranch and certain zip codes within the Hendry County and Collier County limits. Whether you need a bounce house rental or water slide rental for your child's home birthday party, corporate event or business holiday gathering, we do our best to accommodate your needs!
NOTE: Delivery fee applicable depending on zip code. If you do not see your area listed above please call the office at
239-850-2062
or shoot us a quick message to Reservations.abcs@gmail.com
What Customers are Saying
⭐️⭐️⭐️⭐️⭐️
Scheduled a water slide 5 tables and 30 chairs a month in advanced. The whole process from navigating the website to the help choosing what we needed all the way to the day of delivery setup and pick up was so easy. Everything coming together so well made for such a great day for so many of our guests and my daughter for her big day. Thank you ABC you guys are awesome and wonderful to deal with. Will definitely reccomend to anyone looking for your services.
- Jeff S.
⭐️⭐️⭐️⭐️⭐️
ABC Bounce Houses LLC are an amazing family oriented company. I can always count on them to have everything set up prior to my parties, they have never been late. The quality of their products are top notch! Anytime I have inquiries they are always quick to respond. I definitely recommend ABC for all your fun parties needs!
- Arlana S.
⭐️⭐️⭐️⭐️⭐️
ABC Bounce Houses are very professional, competitive pricing, and reliable services. We have been using them for years . I would recommend them to anyone for any occasion. Their products are also very good and they keep adding to their inventory so you can try new products.
- Stevo
239-850-2062
Reservations.abcs@gmail.com
Facebook
Cleaned and Sanitized Inflatables
Experienced, Professional & Knowledgable Staff
Fast and Efficient Delivery & Set Up
We have resided in Fort Myers and Lehigh Acres all of our life, so we know the area pretty well! We started the company in January of 2015 with the intention of earning a little extra income after our second son was born. With a lot of dedication, sweat equity, trial & error, smiles and some tears along the way we have turned this "hobby" into full time employment for us! Like you, we have children so we know the importance of birthdays and how special they are. Our goal is to provide not only for our family but yours too with the most EXCLUSIVE, jaw dropping, show stopping, bounce house party rental inflatables in the market! After all, the kiddos are only so little for such a short time. For many years it has been only us (husband & wife) to service all of our wonderful clients while working other jobs during the week. We have now been blessed to branch out and hire some new folks to continue to grow our small bounce house rental company to service all of you!

With three sons now, they are sure to keep us busy and on our toes! They play a big part in helping us design and picking out the latest and greatest bounce houses, bounce house slide combos and water slides for all of you. They make great testers too! Their favorites are the water slides and the bigger the better they say! Being a "boy" parent is not for the faint of heart lol! If it weren't for these boys ABC's Bounce Houses LLC wouldn't exist.

A Fun Fact about us and why we decided to name the company, "ABC's Bounce Houses LLC." It's not just a catchy cliche name with no meaning. ABC's represents each of us in our Family. Owners Aaron & Charis and our three sons with their first name initials of B, C and C. Thus, creating us to be ABC's! Hence the plural C's because there are three of us! When we started in 2015 we had only two bounce houses to start with. To this day, we have over 25 inflatables and counting!

We have really turned our focus to providing the newest, most unique and exclusive designs for all of you these last couple of years. Because of this we are not the cheapest bounce house company in the SWFL area. We don't strive to be either. We know the exceptional product and service that we will be delivering to you and all the fun and memories you will make with your loved ones to remember! We try our best to have competitive pricing with all of our reputable bounce house party rental friends in the industry. Every year we invest and add multiple new products so that we can keep our inventory updated and fresh.

If you are a new client we truly hope you give us a shot to prove our bounce house rental products and service for you! And if you are a returning client we can't thank you enough for believing in us and supporting us along the way of our entrepreneurship! If it weren't for all of you, we simply wouldn't have made it this far. From our family to yours, THANK YOU!!